Teachers
We would love for you to be part of our 2020–21 Sunday school teaching team! We are hoping to create an inter-generational team of teachers, so we invite all who are 15 – 99 years old to be part of this important ministry at First Congo. Virtual classes welcome all to be part of the faith development of our children. Click here to sign up.
Sunday School is offered year-round during our Sunday morning worship services for children ages 3 years through 8th grade. Regardless of age, our hope is to convey to all children that they are beloved children of God. As a church family, we respond to that love in the way we care for ourselves, each other, our neighbors locally and globally, and God's world. In our classes, we practice together all those things that loving Christians do: pray, give thanks, comfort, defend, forgive and repent, in a safe and supportive atmosphere. And of course, we learn from (not just about) the Biblical stories of people who have experienced God's power and love in their messy lives.
Infant and childcare is offered in our nursery for children 3 years and younger at 9am and 10:30am. Starting at 10am there is childcare available for all ages as well.
How it Works
The 3 year-olds through 5th grade classes are offered at both 9am & 10:30am. Children are dismissed from worship to their Sunday School classes following First Steps, the children's lesson in worship. The 6th and 7th graders meet at the 10:30am class only, starting immediately at that time. A whiteboard outside the Light Court in the Education Building lists classroom locations for the following classes:
Three & four year-olds
Kindergarteners and 1st graders
2nd and 3rd graders
4th and 5th graders
6th and 7th graders
8th grade Confirmation class meets on Sundays
During the summer months, Sunday school is offered through 5th grade only.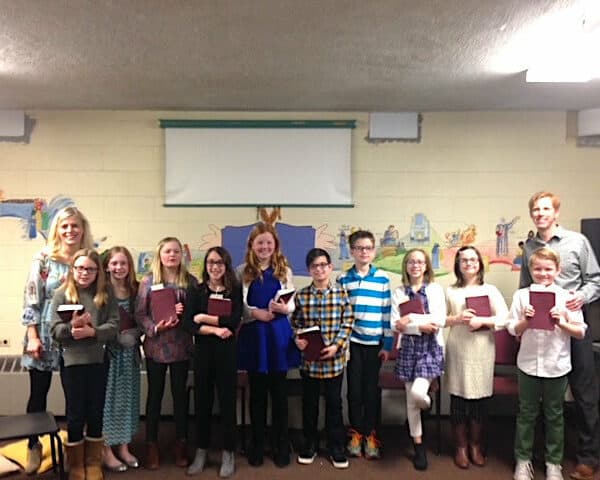 Curriculum
The Sunday school classes use lessons from the Shine curriculum. The lessons cover important themes and characters of the Bible. Each lesson provides an opportunity for the children to reflect and relate the story to their own lives. The Shine Bible presents Biblical stories in a colorful and engaging way. For more information, contact Hope Sabbagha at hope@wscongo.org.
https://shinecurriculum.com/about/biblical-themes-and-outlines/
Each Sunday school class begins with "Joys and Concerns," which helps to foster fellowship and a sense of community. The children pray together and they all lift up these joys and concerns to God.The curriculum also engages the children by asking "wondering questions," so they can think about the works of God and how it applies to their own lives. The teachers are intentional about creating a warm and welcoming environment for all children.
Milestone Lessons
The Christian Education committee of First Congregational church has created special topic lessons for each grade level. These special lessons are referred to as Milestone lessons. These lessons introduce and reinforce special topics that are not part of the curriculum. The topics rotate on a two-year cycle for those in Kindergarten through 7th grade. These lessons are usually taught in November.
Kindergarten and 1st graders learn about the labyrinth and prayer.
2nd & 3rd graders learn about the Lord 's Prayer and the 23rd Psalm.
4th graders study the Bible: The 4th grade Bible study is a five-week unit that usually starts in February. They will learn about stories in the Old Testament and New Testament of the Bible and how to use the Bible for guidance and comfort. In March, each child will be presented with their own Bible during worship.
The 5th graders learn about the sacraments of baptism and Holy Communion, specifically Jesus' baptism, and the significance of baptism in their life. Pastor Katherine or Pastor Meredith teach the children about communion and offers the sacrament to them during class.
The 6th & 7th graders learn about the 10 Commandments and participate in a unit addressing loss and grief.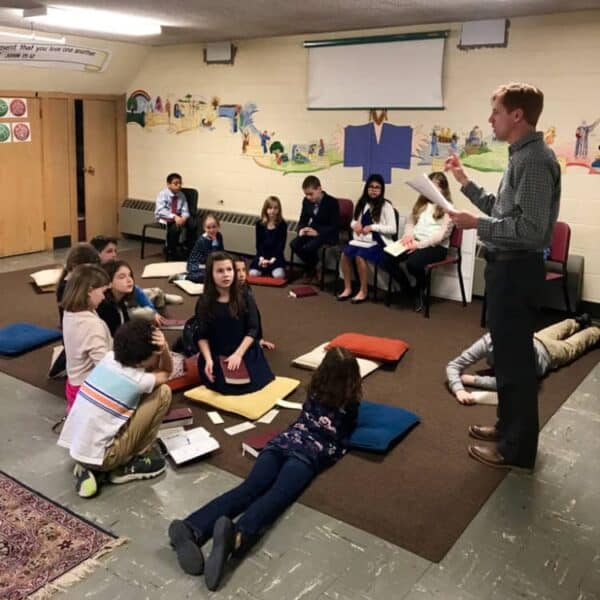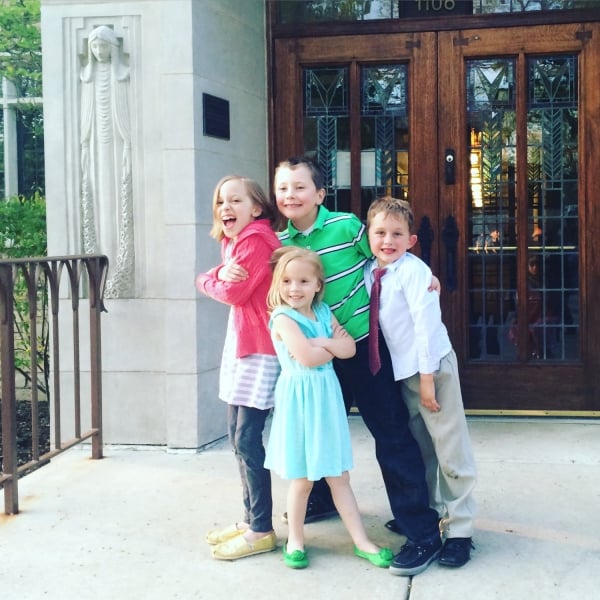 What Goes on?
The Sunday school classes are taught by two volunteer teachers from our family of faith and are provided with easy-to-follow lesson plans and activity suggestions. The same lesson is taught at both hours and families may choose from week to week which time to attend.
Our Sunday School Teachers
First Congo is blessed to have inspiring Sunday School teachers who often leave the class with a lesson themselves. Take a look at what the Sunday School teachers have to say about this important ministry of our church:
"Anytime the children walk into Sunday School they are submerged in the teaching of the church and the Bible. The lessons have definitely helped them grow in their religion."
"It was awesome to hear their creative ideas on their faith. This is a great program and really had wonderful discussions with kids."
"It meant so much to me getting to bond with all of students…"
"The children conveyed what was learned to their parents and also talked about something we did later in the year (in Sunday School and/or when I casually encountered them)."
"We had wonderful discussions and spoke many times about their Faith Journeys and their Faith Formation. They were very candid. We all grew and learned through our sharing."
Several times during the year, a family service is planned for children in 2nd grade and up to worship together as a family, while children 3 years-old to 1st grade enjoy special services titled "Wee Worship," which are held in the Chapel.
If you have any questions about the Sunday school classes or the curriculum, please contact Hope Sabbagha at hope@wscongo.org or 708-246-1900.