June 19, 2022 marked a truly glorious and historic day in the life of our family of faith. Our congregation overwhelmingly approved our Covenant of Inclusion. And just a few days later, our denomination, the United Church of Christ, approved our Covenant, granting us standing as an Open and Affirming church. Open and Affirming (ONA) is the United Church of Christ's (UCC) designation for congregations, campus ministries, and other UCC bodies that make a public covenant of welcome into their full life and ministry to persons of all sexual orientations, gender identities, and gender expressions.  We will now be listed on the UCC church map at ucc.org reflecting our ONA status.   
Covenant of Inclusion
We, the First Congregational Church of Western Springs, United Church of Christ, strive to be people of extravagant welcome. We affirm that all people are created in the image of God, and we celebrate the diversity of God's creation. 
As we seek to become faithful disciples of Jesus Christ and endeavor to live out our shared mission, we respect and gladly receive persons of every race, ethnicity, nationality, gender, gender identity and expression, sexual orientation, mental and physical ability, age, socioeconomic status, marital standing and family structure, and religious background. 
We affirm that the Holy Spirit gathers us as a congregation in which all persons are invited to participate in the life, leadership, ministry, fellowship, worship, sacraments, responsibilities, blessings, concerns, and joys of our community of faith. We hope and pray that by establishing and embodying this covenant of inclusion, we might fully follow Christ's commandment to love God and neighbor and be a safe place where God's love abounds. 
To learn more about the events, conversations, and educational opportunities that have taken place during the past 10 months around the topic of inclusion and a list of Inclusion Team members, please see the summary (click below to review it) prepared by Inclusion Team Co-Chairs, Rachel Shaw Callahan and Heidi Bonjean.
Please note, the following options for voting on the Covenant of Inclusion available to members during or prior to the meeting:
Attend the Semi-Annual Meeting in person and vote by paper ballot (name optional) supplied by/returned to ushers.
Attend the Semi-Annual Meeting via livestream and vote during the meeting by texting Beth Tracy, Office Manager, at 312-371-8061, emailing beth@wscongo.org, or using the chat feature.
Vote in advance by texting Beth Tracy at 312-371-8061 or emailing beth@wscongo.org.
Vote in advance by obtaining/returning a paper ballot (name optional) from Beth Tracy, Office Manager, during church office hours.
If you have questions or would like to connect further on this topic, please reach out to either one of us, Rachel Shaw Callahan, Heidi Bonjean, or any of the Pastors.
With appreciation,
Amy Baldwin
Amy Baldwin
Moderator
moderator@wscongo.org
708.431.4203
Kathy Vega
Kathy Vega
Associate Moderator
kathleen@kbvega.com
708.606.9282
WHAT DOES IT MEAN TO BE TRULY INCLUSIVE?
Our congregation has created an Inclusion Team to start conversations on the topic of being actively and proactively inclusive, welcoming, and loving to all. In that spirit we hope to create a covenant of inclusivity and belonging at First Congo. Although this church has always been a welcoming place, we feel it is time to broaden and deepen our understanding and our commitment to all people, including the LGBTQ+ community.
The team wants to hear from different voices to help ensure the covenant we create is grounded in faith and reflects our congregation's commitment to compassion, respect, and unity. The team is working together to plan communications, initiate conversations, and create a specific process to help bring each member of the congregation further along in their inclusion journey. This committee's work may lead to a path of becoming an officially Open and Affirming church. (See below for more about what that means.)
Rachel Shaw Callahan and Heidi Bonjean are co-chairs of this non-constitutional committee. Several church members representing a broad spectrum of our community are on the team, which also includes Rich, Meredith, and Katherine as ex-officio members. Amy Baldwin, our church moderator, and Kathy Vega, our associate moderator, also serve as ex-officio members.
We believe this initiative will have a positive impact on our community of faith as well as our wider context. We also hope it will deepen our faith and trust in God, in whose image all people are made.
We invite you to reach out to Rachel, Heidi, or any of the pastors with your questions about what it might mean for First Congregational Church of Western Springs to become an open and affirming church.
VIDEOS FROM OUR INCLUSION TEAM:
What does it mean to be an Open and Affirming Church?
"Open and Affirming" (ONA) is a movement of more than 1,500 churches and other ministries in the United Church of Christ that welcome lesbian, gay, bisexual, transgender and queer (LGBTQ) members. More than 350,000 members of the UCC belong to ONA churches—and our movement is growing rapidly.
After a time of study, dialogue and prayer, churches adopt an Open and Affirming "covenant" committing their members to welcome LGBTQ seekers, support their relationships, and advocate for their basic rights. All sacraments and rites of an ONA congregation are available to LGBTQ people, including baptism, confirmation, communion, and marriage. ONA churches take seriously the Bible's admonition to "accept one another, just as Christ accepted you, in order to bring praise to God." (Romans 15:7, NIV)
Online Resources
Books
Inclusion Team Members:
Heidi Bonjean, Co-Chair
Rachel Shaw Callahan, Co-Chair
Amy Baldwin, Moderator
Kathy Vega, Assoc. Moderator
Rich Kirchherr
Katherine Willis Pershey
Meredith Onion
Julie Beitz
Norm Braksick
Andrea Branz
Hannah Dunne
Clare Kralovec
Joy McAdams
Lisa McTigue
Marie Murrell
Car Notorangelo
Alexandria Onion
Nancy Sutherland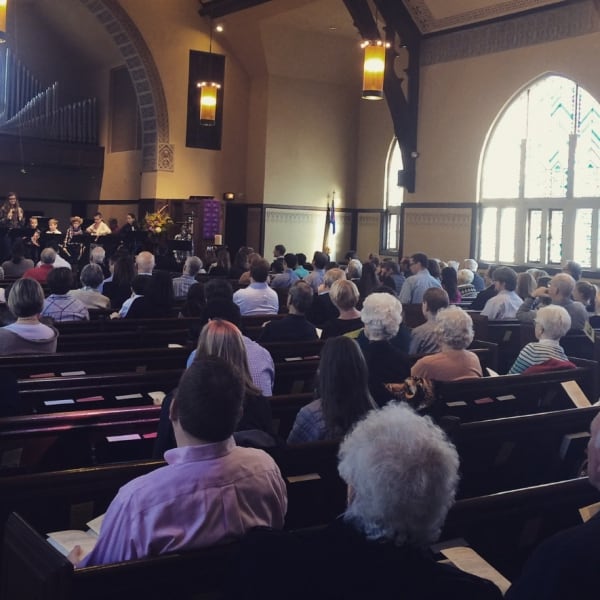 Join us for Worship
Please join us every Sunday at 9 & 10:30AM in the Sanctuary or via live-stream at 9AM (recorded for continuous viewing) on our YouTube channel for worship (click the button below).