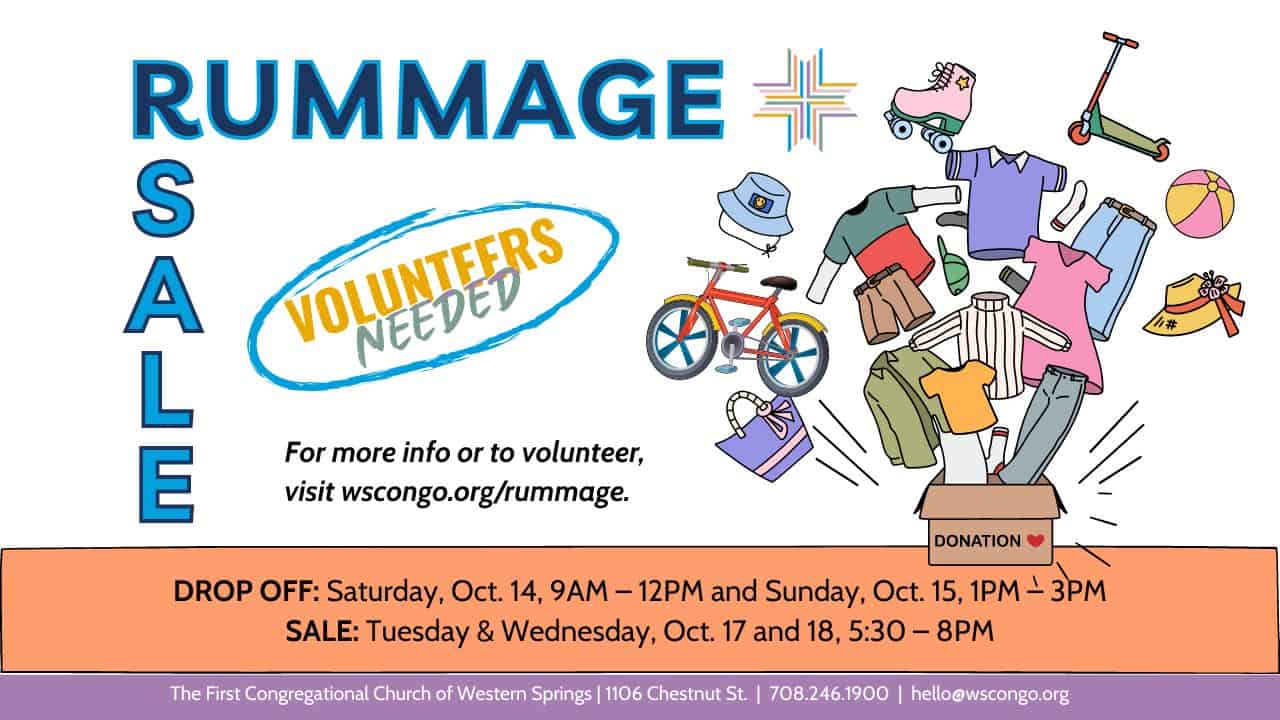 DROP-OFF: Saturday, October 14, 9AM – 12PM and Sunday, October 15, 1 – 3PM. Drop off gently-used donations from the community will be collected via a convenient drive-through service in the church parking lot off Woodland Avenue. All donations should be bagged or in boxes. A list of items that will not be accepted for the sale are posted below.
Please consult the exclusion list before bringing your rummage.
SHOP: Tuesday and Wednesday, Oct. 17 and 18 from 5:30 – 8PM.
VOLUNTEERS: WE NEED YOUR HELP!
VOLUNTEERS: Members of the community are invited to volunteer for the sale and those working a minimum of three hours will be rewarded by being allowed to shop before the doors open to the public on both evenings. While advanced sign-up is preferred, last-minute walk-ins are welcome and must sign in upon arrival. TO VOLUNTEER, please click the signup buttons below (COMING SOON!)
THERE ARE 3 WAYS TO HELP WITH RUMMAGE:
1. Sign up to donate food items (list available when you register) to the volunteer staff working the sale.
2. Sign up to volunteer for the sale for as much time as you have to give. Free childcare is available. Older kids are welcome to volunteer, too! Volunteers who work at least 3 hours can shop early!
3. Be a part of the Green Team and join the recycling and trash removal effort at The First Congregational Church Rummage Sale. Help is needed to remove the buildup of cardboard, paper and metals and ensure these items get recycled.
GENERAL INFORMATION on RUMMAGE SALES
Our semi-annual all-church Rummage Sales are Woman's Society's largest undertakings. Sales of the proportion to which these have grown wouldn't be possible without the generous support and involvement of all of our church members. Over 250 people come together each October and April to help Woman's Society. Sale profits are then shared with non-profit agencies close to home and around the world as well as the First Congregational Church of Western Springs.
For questions or additional information regarding the sale, please email womanssociety@wscongo.org.
DONATE your gently-used rummage. Unfortunately, we cannot accept the following:
Books (except children's books that are part of toys)
TVs/Computers/monitors, all electronics, cables
Printers, printer cartridges
Fax machines
Cell phones, phone chargers or telephones
Infant car seats
Cribs
Large sofas/furniture
Unframed mirrors or large heavy mirrors
Chandeliers, or any hard-wired light fixture
Ceiling fans
Paint or toxic chemicals, building materials
Mattresses, box springs, sofa beds
Large area rugs
PLEASE NOTHING BROKEN, DIRTY, WET, RUSTY, OR HAZARDOUS.
ALL DONATIONS SHOULD BE BAGGED OR BOXED AND MARKED.
THANK YOU!
FOR VOLUNTEERS:
Volunteers who work 3 or more hours are entitled to presale shopping on both days. But whether or not you volunteer, you're welcome to shop and enjoy savings galore! The sale is a bargain-hunter's dream. Cash and local checks accepted.
PRAY
for the hundreds of volunteers and countless shoppers who support this sale year after year and for those who will receive financial support as a result. All profits are donated to charities close to home and around the globe.
Can't make the Fall Rummage Sale?
Our Spring Rummage is April 23 and 24, 2024. Drop-off will take place on April 20 and 21, 2024.
Donation Locations
---
Location Name
Address
Details
AMVETS
(708) 388-7800
donatestuff.org
Will pick up gently used clothing and household items.
BEDS Plus
(708) 354-0858
beds-plus.org/ways-you-can-help/
9601 East Ogden Avenue
La Grange, IL 60525
Each client who comes to BEDS is either homeless or their housing is threatened. Call to donate goods and food.
Big Rig Books
(708) 205-1516 bigrigbooks@gmail.com
A mobile literacy outreach initiative encouraging reading and providing books for children in economically challenged, underserved communities. They accept new and gently used children's books.
Bob's TV and Metal Pick up Service
(630) 235-0387
CRT TVs, computer monitors, flat screen TVs, plasma TVs, large appliances, copy machines, hot water tanks, lawn mowers, tools, bicycles, and more. Call Bob to set up a free pickup.
Chicago Furniture Bank
(312) 752-0211
chicagofurniturebank.org/donate
4801 S. Whipple
Chicago

The mission of the Chicago Furniture Bank (CFB) is to provide dignity, stability and comfort to Chicagoans moving into supportive housing by providing them with a place to hand-pick an entire home's worth of furnishings. For information about what they will accept and to schedule a pickup (there is a fee), call or visit their website.
Cradles to Crayons cradlestocrayons.org/chicago/
Cradles to Crayons provides children from birth through age 12, living in homeless or low-income situations, with the essential items they need to thrive.
Electronic Recycling Collection
(630) 407-6700
www.dupageco.org/ElectronicsRecycling
451 Commerce Street
Burr Ridge Public Works
Proceeds benefit the developmentally disabled. Computers and peripherals, office equipment, small home appliances, home entertainment items.
Goodwill Store & Donation Center
708-562-6166
www.goodwill.org
3054 Wolf Road
Westchester, IL
Will sell your new and gently used items in stores or on shopgoodwill.com and use the revenue generated to provide employment training and job placement services.
Habitat for Humanity ReStore
630-517-2080
www.gohabitatrestore.com
869 S. Rohlwing Rd. (Rte. 53)
Addison, IL 60601
Items must be approved prior to donating.
The Honest Junk Co.
(773) 733-2745
www.honestjunkcompany.org
4801 S Whipple St. Suite A Chicago, IL 60632
Chicago's only nonprofit junk removal service. Sister company of Chicago Furniture Bank.
The Hope Chest
(708) 482-0359
305 W. Hillgrove
La Grange, IL
A nonprofit retail shop that donates proceeds from sales to a domestic violence shelter. They accept gently used in-season women's clothing, purses, scarves and jewelry.
Off the Street Club
773- 533-3253
www.offthestreetclub.com/
Off the Street Club is Chicago's oldest boys and girls club. We currently serve more than 3,000 kids in one of the most dangerous neighborhoods in the country, West Garfield Park.
Salvation Army
1-800-SA-TRUCK
www.satruck.org
Manned Donation Drop Off
1S337 Summit
Oakbrook Terrace, IL, 60181

Corps Manned Donation Drop-off 7 days a week from 10AM – 6PM.
Salvation Army Thrift Store & Donation Center
www.satruck.org
7511 Lemont Road
Darien, IL, 60561
Store Hours: 10am–8pm
Monday – Saturday
Sharing Connections
630-971-0565 www.sharingconnections.org/donate-items
5111 Chase Ave
Downers Grove
Enabling families and businesses to share their gently used furniture, household items and clothing with families needing assistance. The list of items they will accept can be found on their website.
WIPECO / Chicago Textile Recycling Co, Inc.
708-544-7247
www.chicagotextilerecycling.com
250 N Mannheim Rd., Unit 0162
Hillside, IL
Accept used clothing, shoes, household linens in recycling bins