here's what's happening during
LENT, HOLY WEEK & EASTER:
Maundy Thursday Worship &
Labyrinth Walk
April 6, 2023
8PM in the Sanctuary
Worship will be in person and live-streamed.
On Maundy Thursday, we remember the night before Jesus was betrayed, when he shared the Last Supper with his disciples and gave them a New Commandment, to love one another. The Labyrinth Walk will follow the Maundy Thursday service.
If you are not joining us in person, please gather communion elements for the 10AM live-streamed service available on YouTube.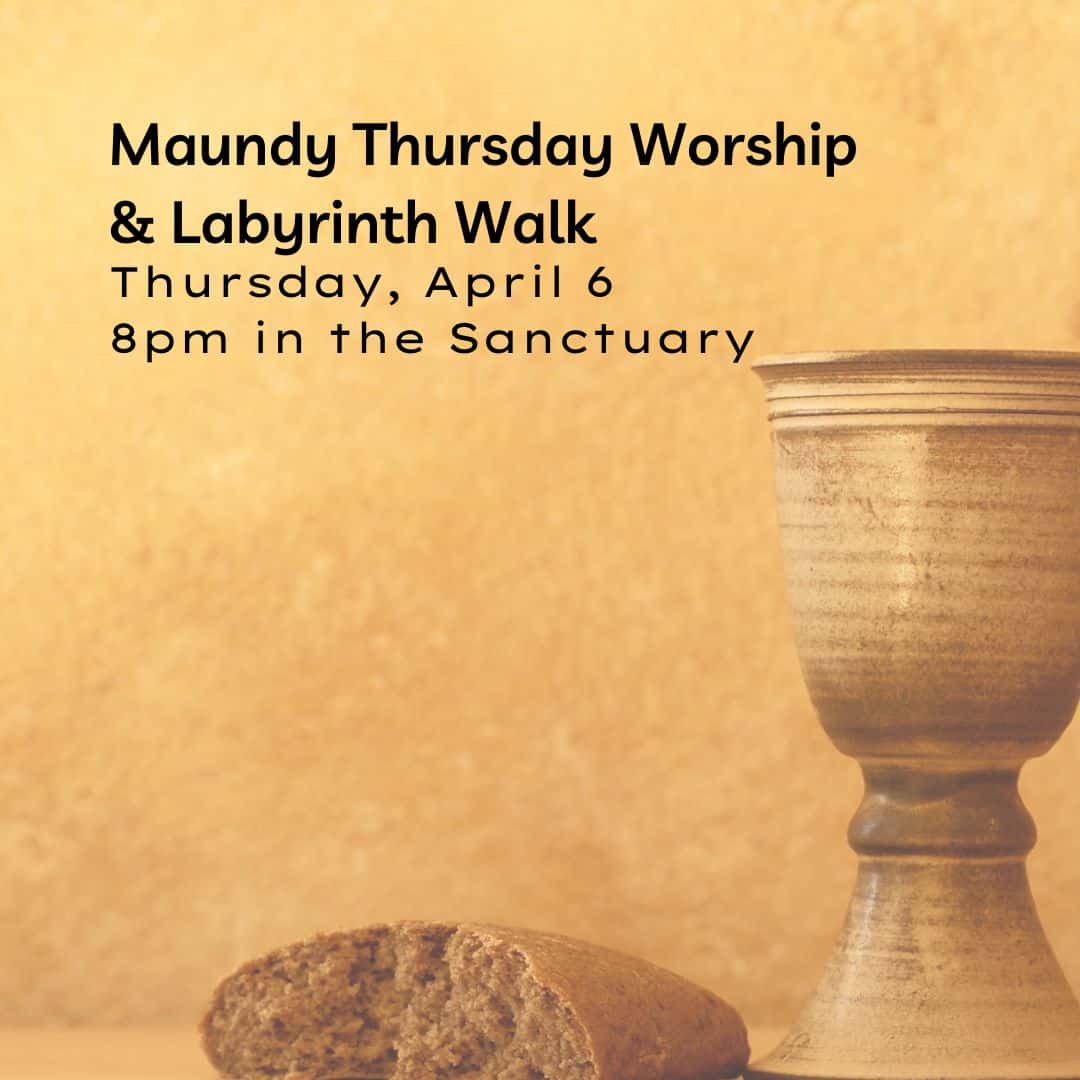 Good Friday
April 7, 2023
Stations of the Cross & Labyrinth Walk
5PM in Plymouth Hall
A custom of our Christian tradition is to keep vigil with Christ throughout Holy Week. Walking and praying through the stations of the cross, accompanying Jesus on his final walk through Jerusalem, known as Via Dolorosa — the way of sorrow.
A Labyrinth Walk will immediately follow the Stations of the Cross.
Childcare will be provided for young children. This worship service will be in-person only.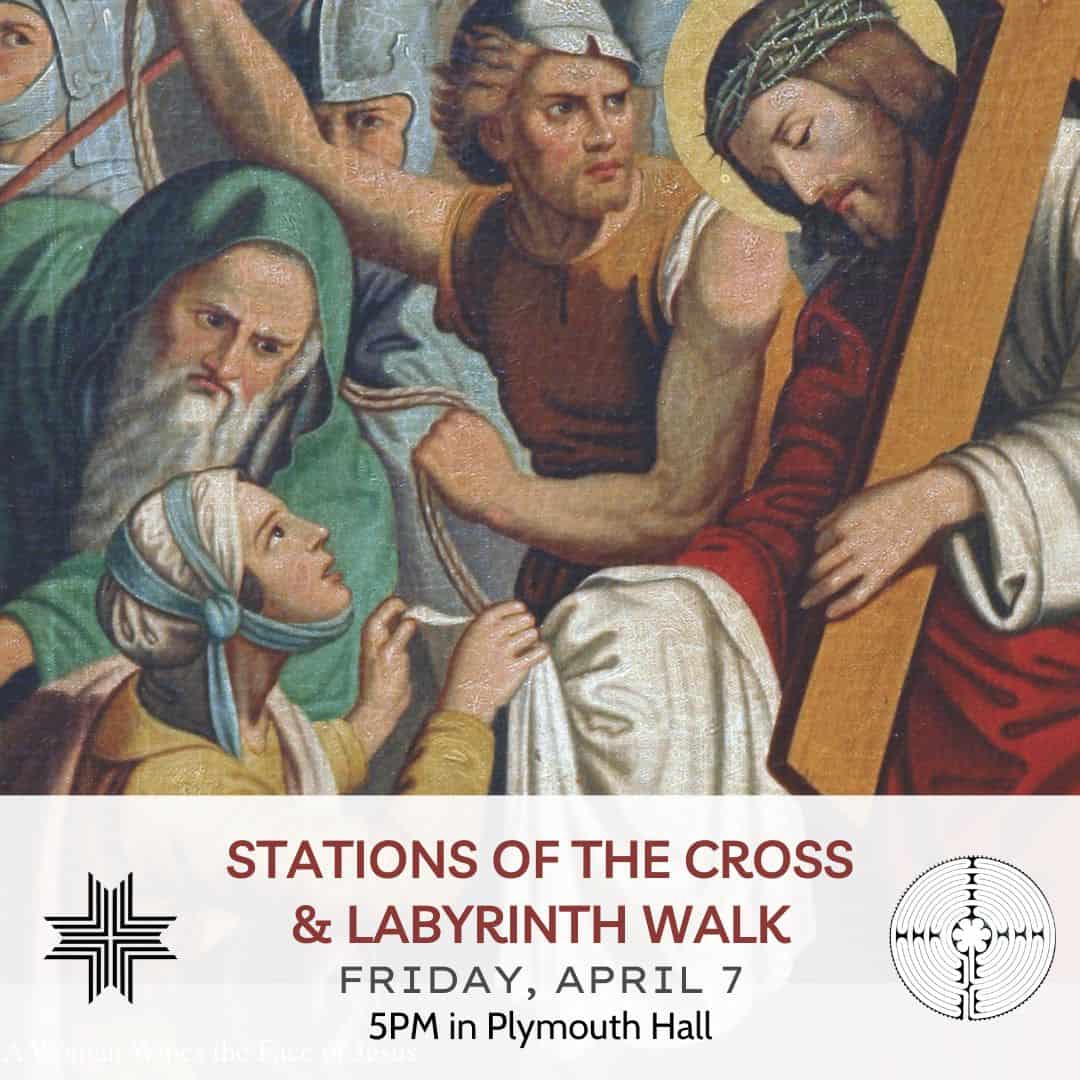 Holy Saturday:
April 8, 2023
Restorative Yoga, Healing Prayer
9 – 11:30AM in Plymouth Hall
$20 suggested donation
Rev. Katherine Willis Pershey will once again offer a unique Holy Saturday experience – Restorative Yoga, Healing Prayer. Participants will have time to reflect through the practices of labyrinth and journaling, engage in an all-levels accessible restorative (yin) yoga practice, and be led in a time of prayer and blessing. All of this will happen in the context of a safe and loving community of faith.
The event will take place in Plymouth Hall on Saturday, April 8th from 9:00-11:30am. A donation of $20 to the Faith & Flow Yoga Fund is suggested, but is not required for attendance.
Easter Sunday
April 9, 2023
7:30AM, 9AM and 10:30AM in the Sanctuary
On Easter Sunday, we celebrate the good news that Christ is Risen. On the highest of holy days in the Christian year, we remember the Resurrection in story and song, glorify God with special music, and cover the cross with colorful flowers.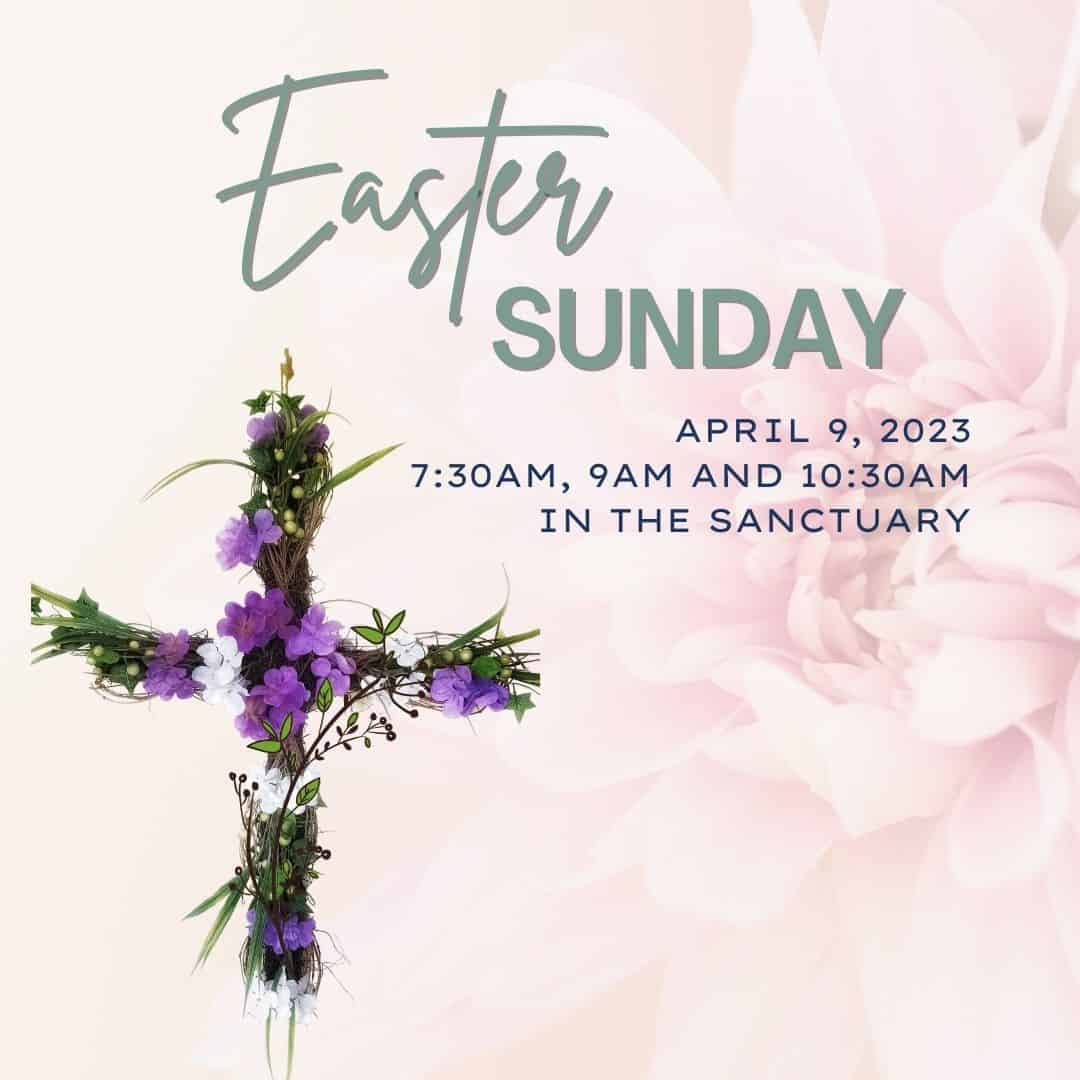 Would you like to receive the daily Lenten Devotionals?
The Lenten devotional is a gift we give each other when we share our thoughts and stories for the daily readings throughout the Lenten season and is a wonderful way for us to learn from each other and deepen our sense of community as a people of God. If you'd like to receive these devotionals in your inbox every day at 6AM, please click below:
To download a complete version of the Lenten Devotional booklet, please click below:
LENTEN FAMILY RESOURCES
The Children's Ministry Committee has Lenten resources for your family, including one that helps explain the season of Lent to your children, and another that shows you how to create a Lent paper chain to use between Ash Wednesday and Easter.
Click below to download these resources.
A "scratch off" Lenten calendar will be available at church throughout Lent. See Ms. Hope with any questions.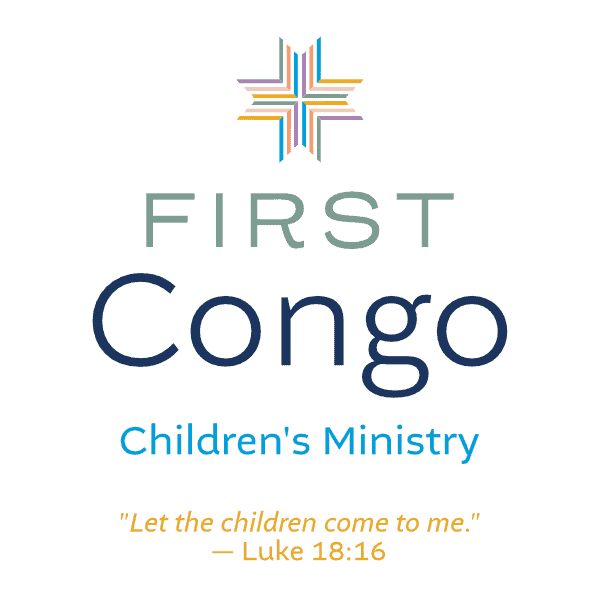 LENTEN SCRIPTURES FOR FAMILY TIME
Create a special time for your family — maybe every day — where you all can share a simple spiritual practice. Use a corner of your family room and place a candle on a table. Invite your family and God to be together. This can be such a gift to you and your family.
Light the candle, take a few deep breaths and say a prayer (Help, Thanks, Wow), read scripture (download Lenten Scriptures below) or the First Congo devotional. Share where you saw or noticed God today. Tell each other, "God loves ___!" Create this new time at the dinner table or before bed. Even if just for a few minutes. Most importantly, be quiet and listen for God to speak to you. God is always present and with us.
Virtual Lectio Divina
We are pleased to share Marv Baldwin's virtual Lectio Divina practice with you. Marv is a long-time member of our church and is founder of Soul Journeys. If you weren't able to join one of the Lectio Divina groups, this is still a way for you to engage in this spiritual practice throughout Lent. Thanks, Marv!
LENTEN STORIES with MISS HOPE
Families can listen anytime to Lenten Stories with Miss Hope on our podcast channel. Storytime is part of the Children's Ministries Lenten experiences for our children.